Adrenaline ski school carters for everyone
from 4 to 99 years old.
If you're looking for an adrenaline rush, an unforgettable experience on snow or just some reassurance and advice, then look no further, you are in the right place to ski in a secure environment with total confidence.
We are specialized in private tuition as everyone  has different needs.
We can tailor make your class to suit you. Whatever your needs may be, whatever your level, if you are looking to improve your technical skills, simply looking for a relaxed scenic day out or some off piste experience, we will endeavour to share with you our passion for snow sports.
Whatever your vocation, skiing, snowboarding or telemarking, you will take away with you an unforgettable experience.
Christophe Gandy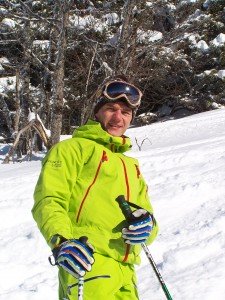 BEES 1° snowskiing and waterskiing
French diploma ski, snowboard, telemark
13 winter seasons experience (St Pierre, Morzine, New Zealand)
"I like to try everything which can slide summer and  winter."